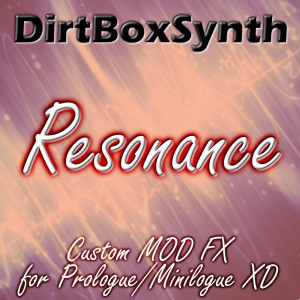 Resonance is a pair of MOD Effects for the Prologue and Minilogue XD, using dual comb filters as resonators to get varying degrees of harmonic and inharmonic resonance.
Resonance adds complex, evolving colour, through constantly changing harmonics.  Drift of harmonics is built in, with Version A and B having different drift times, and also having different frequency ranges for the comb filters.
The two controls are frequency (speed), and depth. The depth control is bi-directional with the mid value having minimal effect, and the left and right directions giving different proportions of the dual combs for alternative spectral options.
Speed Control:
Frequency of resonators (different in version A and B)

Drift frequency (with version A drifting more slowly than B)
Depth Control:
Mid-value = minimal effect

Left / Right = Comb type and amount