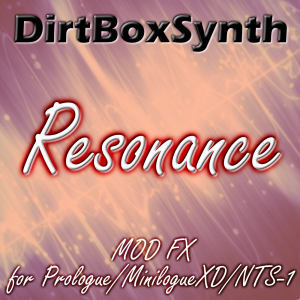 Resonance is a dual comb filter MOD effect for the Korg Prologue, Minilogue XD and NTS-1.
Using a comb filter we can get varying degrees of harmonic and inharmonic resonances. This creates a new 'pitch' from the signal going into the effect, and this can produce vocal-like formant sounds, harmonically-rich textures, 'glassy' pads, pitched percussion, and more.
There are two versions of the effect included in this pack, A and B.
Drift of harmonics is built-in, which adds complex, evolving colour, through slowly changing frequency. Version A and B have different drift amounts (with B having the most noticeable drift), and also have different frequency ranges for the filters.
The two controls are frequency and depth. The depth control is bi-directional with the mid value having minimal effect, and the left and right directions giving different proportions of the two comb types for alternative spectral options.
Control 1 :   Frequency
Frequency of resonators (different range in version A and B)
Control 2:   Depth & Comb Type
Mid-value = minimal effect

Left / Right = comb type & amount/depth
Version 1.1 changes:
optimized for XD/NTS-1 (Prologue sub channel is now not processed by the effect)

smoothed parameter controls

reduced drift amount on version A

added soft clipping to high resonant peaks