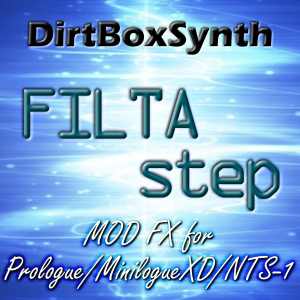 FILTAstep
FILTAstep is a Tempo-Sync'ed step sequence filter, with 29 pre-determined sequence presets, plus a multi-speed random sequence generator, that follows the system Tempo.
Each sequence step controls three aspects of the filter independently – Frequency, Resonance and Filter Type. The 'type' is either Low Pass or Band Pass, and these filter types and parameters get cross-faded across beat transitions automatically.
The 'Depth' knob (Control 2) changes the preset, with the random sequence generators situated at the far right of the control. Different tempo subdivisions can be selected from the last few positions of the knob, with the fastest at the far right.
The 'Time' control sets the base frequency of the filter, and also the range of the modulation, depending on the base frequency. The higher the knob is turned, the higher the frequency and the bigger the range.
The speed of patterns 1 – 29 can only be controlled by the system tempo, but there are variations of speed within the presets.
To restart the sequence on the first beat, the plugin detects silence in the signal and starts the pattern once the signal gets above a threshold. This is to overcome the lack of MIDI note data in the programming API, but seems to work fine under most circumstances.
FILTAstep Controls:
   Control 1:     Base Frequency & Range

   Control 2:    Preset Selection / Random Generators
Custom FILTAstep Sequence Service..
Of course, there are so many other patterns we could have, (and would love to have!), and you may wish to have alternative sequences.
As a special part of this plugin, you can (if you so wish) provide your own set of patterns to be turned into a new plugin. The format required is a simple set of numbers in a big grid, representing the three parameters, and each sequence with a length of 16 steps. There is an excel template (with the standard patterns in it) included in the download for the FILTAstep plugin. You just need to edit the template with your own grooves, and send it back to us at DirtBox HQ.
If you want more than 29 grooves, then that is possible (up to a point!), but bear in mind that a small turn of the knob will jump between presets quite quickly, so there is a trade-off here.
If you are happy to share your personalised filter grooves with other FILTAstep owners via this website, then the service is free (for the first submission only). Or if you would prefer to keep your grooves to yourself, then a £4.99 charge is made for each submission – for this option, purchase the 'FILTAstep Custom Plugin Service' from the web shop, and submit your files via email.
Future updates for FILTAstep will include these custom sequences, and these will be free of charge for all FILTAstep owners.
Check out FILTAstep in this MOD FX Bundle 2.0 Demo: