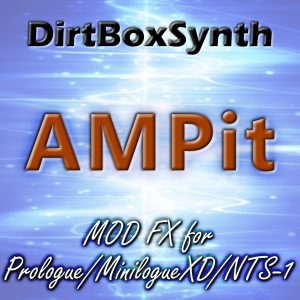 Hi-Gain Distortion (MOD FX)
AMPit is a hi-gain, but smooth-sounding distortion plug-in for Korg Prologue, Minilogue XD, and NTS-1.
Control 1 sets the amount of gain going into the distortion algorithm, and Control 2 is a basic tone control (low pass filter).
Automatic output volume compensation keeps the perceived level constant, while the tone control can knock back some of the harmonics created by the distortion when required, keeping the main synth filter freed up for other purposes.
AMPit sounds great on basses, leads, drums and sequences, and organs (with our ORGANism oscillator for example!), and is a great way to add rich harmonics in a controlled way.
AMPit Parameters:
Control 1 /  'Time'  : Distortion Amount

Control 2 /  'Depth'  : Tone (filter frequency)