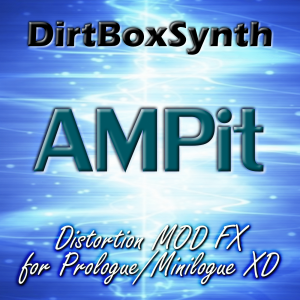 Hi-Gain Distortion (MOD FX)
AMPit is a hi-gain distortion plug-in for Prologue / Minilogue XD – MOD FX.
Control 1 (usually Speed) sets the amount of gain going into the distortion algorithm, and Control 2 (Depth) is a tone control.
As the Mod Wheel can be assigned to Control 1 (Speed), the amount of distortion can be controlled easily during a performance.
The tone control is great for knocking back some of the harmonics created by the distortion if required, keeping the main Prologue filter as part of the synth patch.